Reseller hosting is a form of web hosting that allows you to create separate cPanel accounts through WHM, or by using software such as WHMCS to create the cPanel accounts automatically. As a owner of the reseller hosting account, you will also have access to creating hosting packages, custom nameservers, deciding how much space is allocated to each account and much more. This form of hosting is mostly used by web designers, small web hosting companies and clients with a lot of sites that require multiple cPanel accounts.

Asura Hosting provides a wide range of reseller hosting packages, starting from just $3/mo. Our plans will give you access to all of our premium hosting features, we have listed a few below:
Free SSL certificatesCompetitive pricing structureSolid State Drives (SSD)24/7 Support1-click installer (300+ Applications)cPanel/WHMCloud Flare integrationPHP SelectorDedicated IP's (Optional)
Do I require a technical background to use your reseller hosting?
This is one of the key benefits of reseller hosting, you do not need any technical background to offer web hosting to your customers. As your hosting provider, we deal with all the technical back-end, including the networking, server software/hardware and the security of your server. Allowing you to focus on the front-end of your business, without having to worry about dealing with the technical aspect of the business.
Reseller Hosting vs Shared Hosting
The difference between reseller hosting and shared hosting, is not much. The only difference in most cases is that reseller hosting gives you a lot more control and scalability. Features such as creating customized web hosting plans and cPanel accounts are an exclusive feature only to reseller hosting.
White Label
All our reseller hosting plans are white-label, implying that your customers will not know about us – which is the way it should be. Having your reseller hosting account white label is an extremely important feature, as most clients will often be confused if they come across another web hosting company brand which in turn could lead to them actually leaving your company for that host. We keep our reseller hosting plans white label by making use of non-branded cPanel accounts, customized name servers and a few other features to keep our identity from leaking to your customers.
Upgrading
Its a common trend for resellers to outgrow their accounts, thus we have made upgrading an extremely simply process that will not put your account under any sort of risk or downtime. Upgrading can be done within the client area.
Please visit the following article for more information on how to upgrade your reseller hosting account, here.
WHM/cPanel
Once you have purchased a reseller package, you will be given a list of login information. Most importantly, your WHM(Web Host Manager) login information. This is the main interface of your reseller account, where you can create accounts, delete accounts, create hosting packages, etc.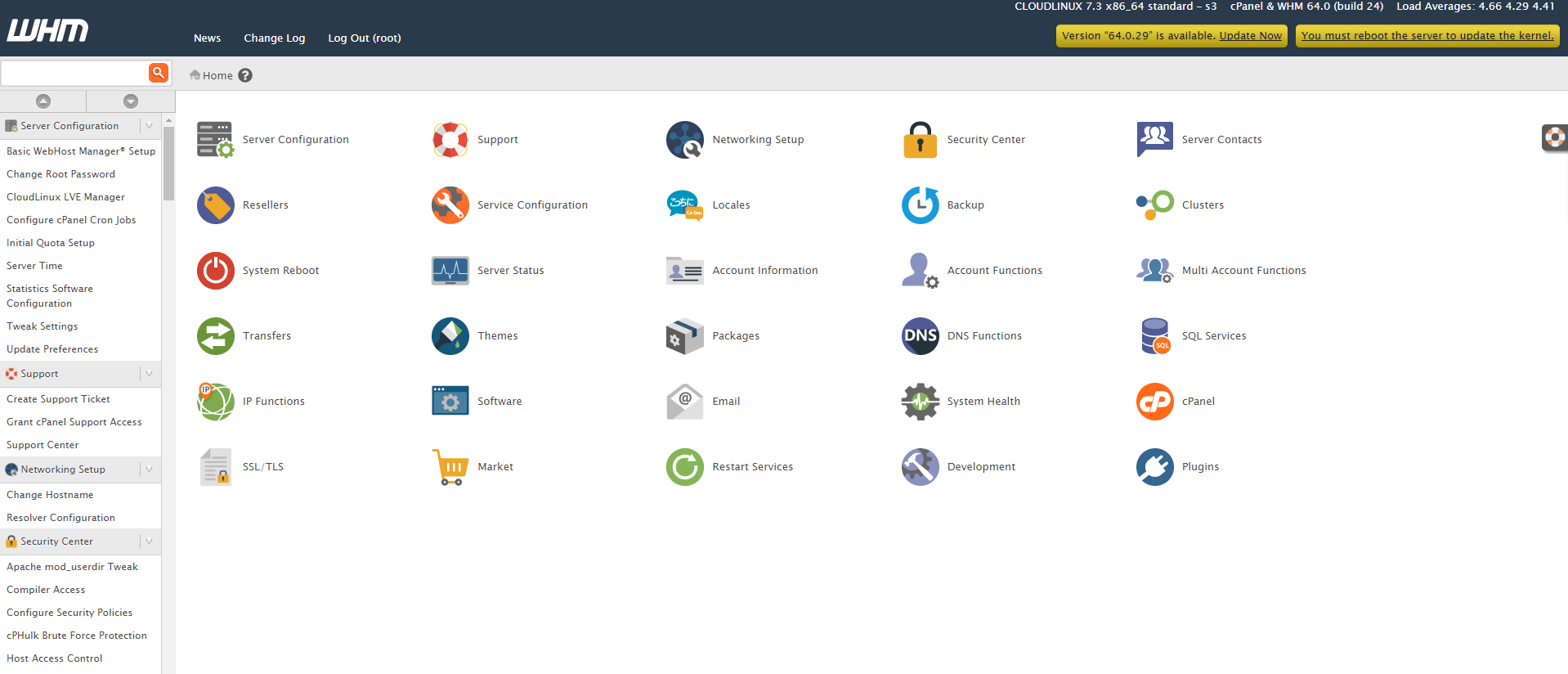 Creating a cPanel account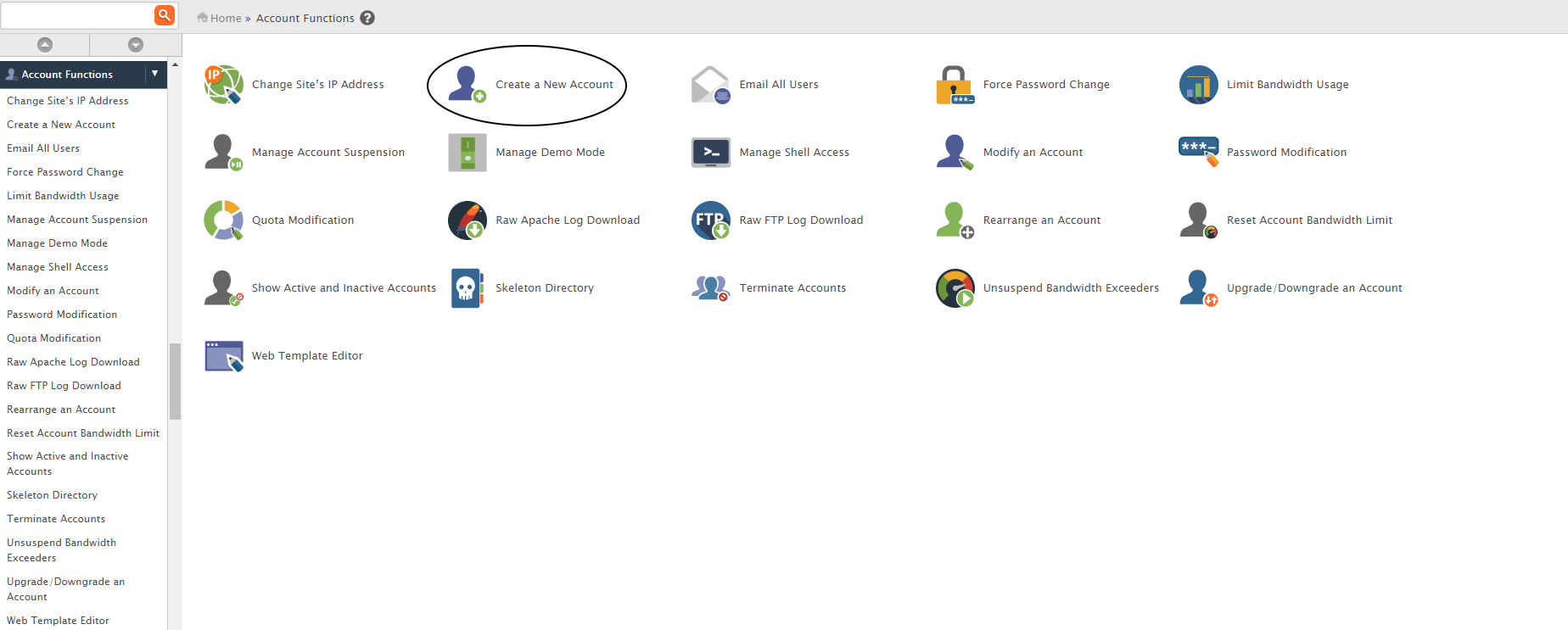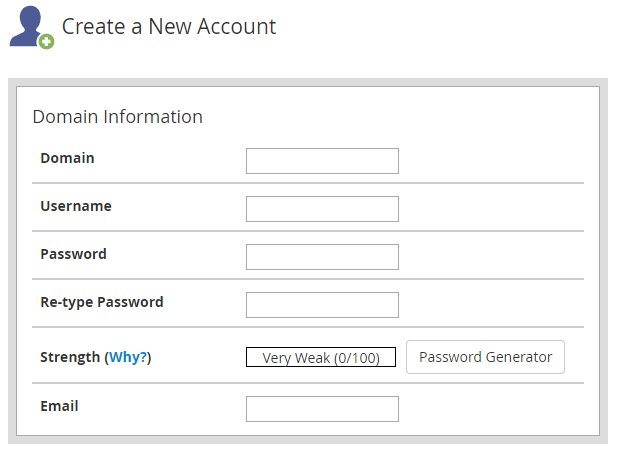 To create a cPanel account with your reseller hosting plan, simply visit the "Account functions" section within WHM. Click on the "Create a new account" feature, where you will be able to enter the Domain, Username, Password and Email of the cPanel account. You will also be required to select the appropriate web hosting package for the account.
However, creating accounts can be automated by using third party software such as WHMCS, which is mostly used by web hosting businesses.
A few more FAQ's regarding our reseller hosting plans.
1. Are there as many features on the reseller plan, as on the shared hosting plans?
Yes, they have the exact same features – the only difference is that the reseller plans give you much more control.
2. I currently have a shared hosting account, could I upgrade it to a reseller hosting account?
Yes, this is possible. However you will be required to request it from our support department.
3. Are yearly paid reseller plans also discounted like the shared hosting plans?
Yes, you will also receive the same 2 months free discount when paying annually. (Use code "2OFF" during checkout)

If you have any questions, please do email us at [email protected] Or contact us through our Support Department.