We are constantly improving our web hosting plans.
Apart from being a cheap web hosting provider, we strive ourselves to keep improving our product. At the start of 2016, we introduced unlimited bandwidth and increased storage capacity for our web hosting plans. After increasing positive feedback and suggestions from customers, we are now introducing free 2048-bit SSL certificates with ALL our web hosting plans. Yes, even existing web hosting plans.
How can I install/activate my SSL certificate?
Installation of your SSL certificate is an extremely simple process. All you would need to do is login to your web hosting accounts cPanel and locate the "Lets Encrypt for cPanel" plugin, once you have accessed the plugin you will notice the following page: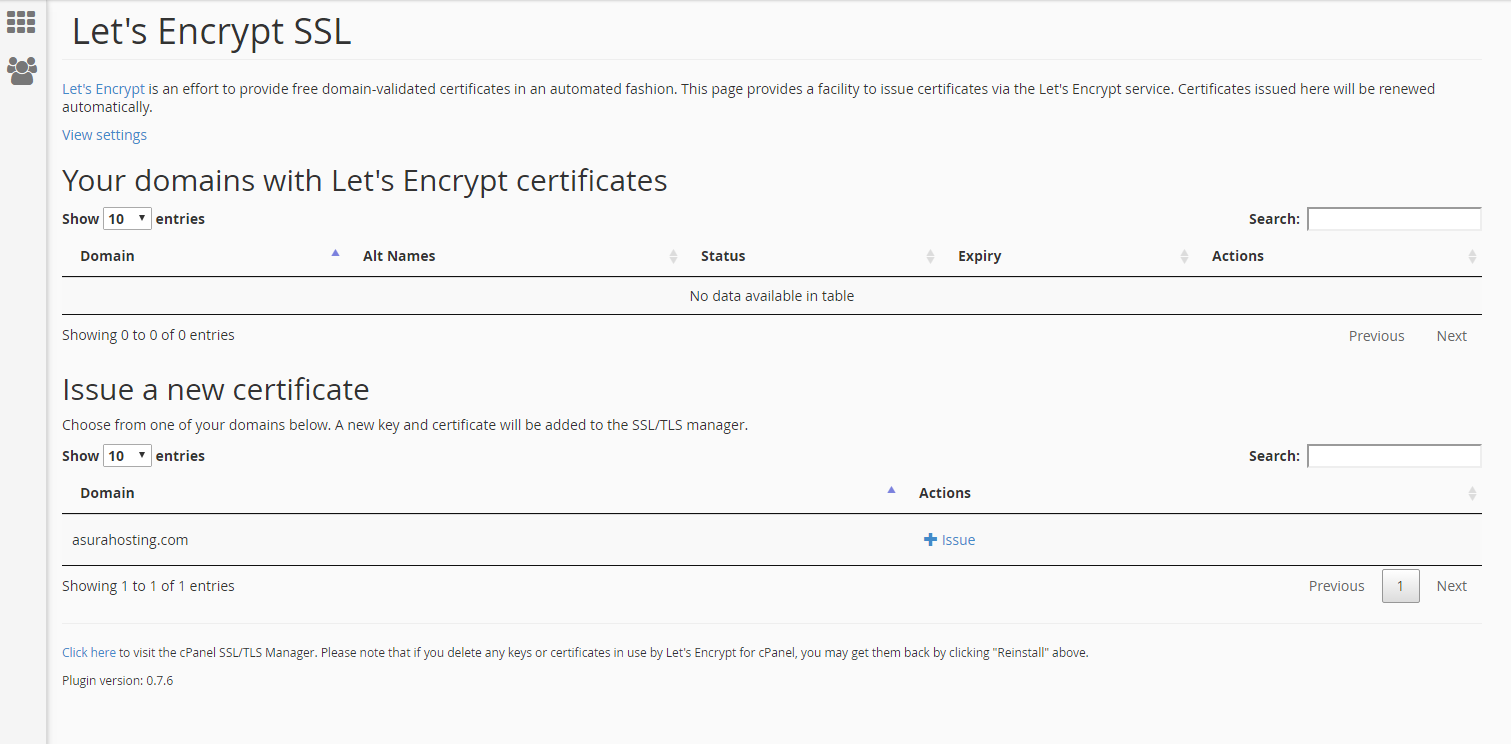 Simply click on the "Issue" button next to the domain you would like the SSL certificate to be installed to. Then, its done! Your site is now protected by a 2048-bit SSL certificate. You can verify this by visiting your site through the https:// protocol. If you do not have a web hosting account with Asura Hosting, visit our Cheap Hosting page to find a range of cheap web hosting plans that you can choose from.
Benefits of an SSL certificate
The benefits of a SSL certificate can sometimes be game-changing, especially if your running an e-commerce business. As most customers would not checkout on a default un-secure http:// page. Thus, an SSL certificate can in most cases boost your sites sales. Apart from also making your site more secure, it also helps your site in the search engines as well.
A few FAQ's regarding the new SSL implementation.
1. Does it stay free forever? Yes, the SSL certificate will last as long as your web hosting account stays active.
2. Can I install multiple SSL certificates? Yes, depending on which hosting account, you are able to install as many SSL certificates as you want on multiple domains.
3. Is there any difference between a paid SSL certificate and this one? No, lets encrypt offers the same encryption as a normal, paid certificate.
4. Does the SSL certificate renew? Yes it automatically renews every 60 days.
5. Do existing web hosting plans also get free SSL certificates? Yes, New or Old, all web hosting accounts now have access to free SSL certificates.
If you have any questions, please do email us at [email protected] Or contact us through our Support Department.